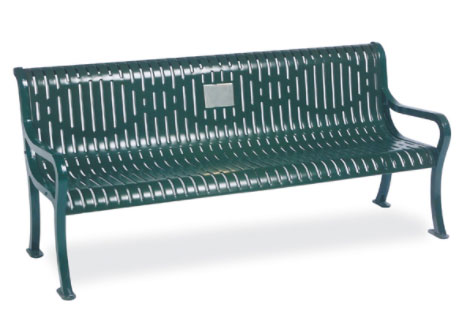 Bench Recognition Program
Union's Bench Recognition Program offers donors the opportunity to purchase a bench in honor of a Union community organization or loved one. The benches will be placed in areas of need along the City's main roadway corridors.  For 2021, the city will focus only along Mt. Zion Road.  Locations of sponsored benches can be suggested but are subject to demand and placement of other benches in the project area.  A total of eight locations have been generally identified by the city so far.
All benches will come with a 6 by 4 inch plaque which will be engraved to the sponsor's recommendations and are subject to final approval by the City.  Commemorative benches are black in color and 6 feet wide with back and arm rests.  Costs for the memorial benches will be $2,000 and this will include the engraving of the plaque, acquisition of the bench, shipping, site placement/concrete and labor.  Benches will come with a 10-year guarantee for replacement should it become damaged.
Interested parties are encouraged to fill out an order form prior to April 30th, 2021 to reserve your priority in this year's program.  Payment must be submitted to the City prior to April 30th, 2021 as well.  All benches will be purchased and installed through the months of July, August, and September.   Additional applications beyond our first-year cap of will be given priority in subsequent rounds of this program.