Larry Solomon-Mayor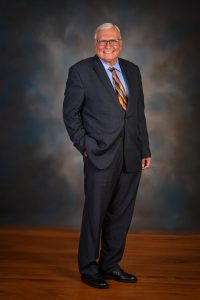 Larry Solomon has served as Mayor for the City of Union since January 1, 2015.
Solomon became interested in local government when he served as the president of the Hampshire Home Owners Association (HOA).  He began attending city meetings after his election to the HOA, to see what was going on with City of Union government and to listen and learn.  He learned that the City of Union at that time was a traditional bedroom community, but the city had the capacity to grow to become a larger city.  Commissioner Bryan Miller saw that Solomon was the right guy to take the city from that bedroom community to that larger city.  Since Mayor Kirby was not going to run for re-election, he then asked him to run for Mayor.  He was elected Mayor in November 2014.
Solomon was raised in Warren Ohio, a smaller town in Northeast Ohio.  He attended Kent State (Ohio), earning a bachelor's degree in Political Science.  Solomon served in the Naval Reserves for a couple of years after college, then returned to school, graduating from The Ohio State University with a Master's degree in Public Administration and Business Administration.
Solomon began his career as a Marketing Research Analyst at Kimberly Clark, then went on to work at P&G a few years later as a Marketing Research Manager.  Solomon eventually left P&G for the opportunity to start the Marketing Research Department at Valvoline Oil.  While at Valvoline, he and his department conducted all the marketing research for the company including new product development.  He was responsible for all marketing research for the introduction of the greatest company product…Valvoline MaxLife – an oil for higher mileage vehicles.  After 23 years at Valvoline and many projects later, Solomon retired in 2006.  He then went onto his own consulting business where he did a lot of focus group moderating.
Solomon feels his focus group moderating skills, acquired from his years in the marketing and product promotion business, are a key asset to him as Mayor.  The skills he developed by listening unbiasedly to what the people's needs are, then providing them answers to act on and make decisions are something he uses every day in his role as Mayor.
Since being Mayor, Solomon has seen the City of Union grow to that larger city…the second largest city in Boone County as he jokes.  Current projects include:  1) The Promenade Center with a new Children's Hospital location.  2) The Grammas Center, which will bring more new business opportunity to Union.  3) The Graeter's/Braxton/Dewey's Center, bring Graeter's and Braxton back to Union.  4) The Union Pointe Center, across from Ryle High School.  And, 5) Another medical facility to be named.
Solomon has been married to his wife, and best friend, Judy for 46 years and they have a daughter together named Jamie.  In his off time as mayor, he enjoys traveling.  His favorite place he has traveled so far is Greece and the surrounding islands, but usually you will find him in Siesta Key FL when not in Union.  In addition to travel, Solomon also enjoys riding his motorcycle with his riding buddies and playing golf with his golf buddies.