The City of Union Commission issued a proclamation designating November 27, 2021 as Small Business Saturday, a national day of locally owned small business recognition.
The proclamation was presented to Carrie DePue, during the November 1, 2021 City Commission meeting by Commissioner Eric Dulaney, Chair of Union's Economic Development Committee. DePue is the Co-Owner and Director of Littlest Angels Learning Center located at 1705 Mt. Zion Road in Union.  Since 1997, Littlest Angels Learning Center has provided childcare and educational programs for local families.
"The City of Union is proud to support our small businesses and economic growth," said Mayor Larry Solomon. "With the population well over 7,000 people, it is more important than ever to remind residents to shop small and shop local."
American Express launched Small Business Saturday in 2010 in an effort to encourage people to "Shop Small" in their local communities, especially during the holidays.  The City of Union's support of their local businesses extends far beyond just retailers.  The City's Economic Development Committee is dedicated to welcoming all business owners and providing them with local resources, grant opportunities, and marketing support.  Recognition of Small Business Saturday is one way to help guide customers to shop, dine, and seek services in their own community.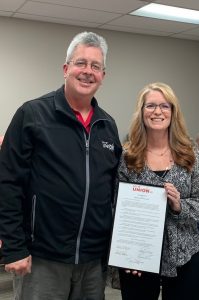 To register your small business for the American Express locator map, click here.
For information about the City of Union, visit www.cityofunionky.org and/or contact Amy Safran, Communication Director/Assistant CAO at [email protected]; 859-384-1511.